Energy columns
Media supply made easy
Energy columns for clean and flexible energy supply
For today's requirements of modern production halls and flexible workplaces, the energy columns from eepos are the ideal solution. Modular, flexibly positionable and quickly installed, they supply machines and workstations safely and directly on site with all the media that are needed there.
The advantages of our energy column
Optimal supply of each desired workstation with power, data, compressed air, gas or cooling water

Full flexibility: attachment to floor, ceiling or crane possible

Connection also possible from above, below or from the side

Optional solutions with swivel booms up to 100 kg payload and 3 meter boom length possible

Elegant and robust design & housing made of aluminum material, high corrosion protection and scratch resistant

All module inserts are easily removable to the front, interchangeable or expandable

Item-compatible grooves for custom attachments: Monitor, keyboard, part holder, lights

Protection class IP20 or IP54

Complete pre-assembly, pre-wiring, fusing and on-site assembly optional

Project planning, technical elaboration, documentation, CE declaration of conformity included
CONFIGURE YOUR MEDIA COLUMN WITH THE BASE DESIGNER
With the help of our online tool
base designer
you can configure your individually equipped energy column in just a few minutes. Simply enter your desired dimensions, the modules and the feed-in point and
base designer
will provide you with all the technical data, the 3D view of your column, the parts list and the price. It couldn't be easier!
Click here for the base designer
Energy columns in six PROFILE SIZES
You have the choice: profile size, color, equipment
There are six different profile sizes to choose from, so that a precisely fitting solution can be implemented for every application. The variety ranges from small and narrow media columns for the simplest requirements to large and massive energy columns, which offer the possibility of an additional crane boom. For each of our products we offer flexible dimensions from 500 mm - 6,000 mm, either a completely free dimension or in a fixed grid dimension of 125 mm. Depending on the purpose of use, the columns can be equipped with the desired modules on two or even four sides.
Energiesäulen in sechs PROFILGRÖSSEN
Sie haben die Wahl: Profilgröße, Farbe, Ausstattung
Es gibt sechs verschiedene Profilgrößen zur Auswahl, so dass für jede Anwendung eine passgenaue Lösung umgesetzt werden kann. Die Vielfalt reicht von kleinen und schmalen Mediensäulen für einfachste Anforderungen bis hin zu großen und massiven Energiesäulen, welche die Möglichkeit eines zusätzlichen Kran-Auslegers bieten. Bei jedem unserer Produkte bieten wir flexible Abmessungen von 500 mm - 6.000 mm, entweder ein völlig freies Maß oder im festen Rastermaß von 125 mm. Je nach Verwendungszweck können die Säulen an zwei oder auch an vier Seiten mit den gewünschten Modulen bestückt werden.
MOUNTING OPTIONS OF THE ENERGY COLUMNS
Everything is possible: The eepos base columns can be anchored to the ground with a base plate as well as mounted on the ceiling or on an eepos crane. Mounting on the wall is also possible without any problems. The energy supply can also be provided from below, the side or from above.
Mounting from above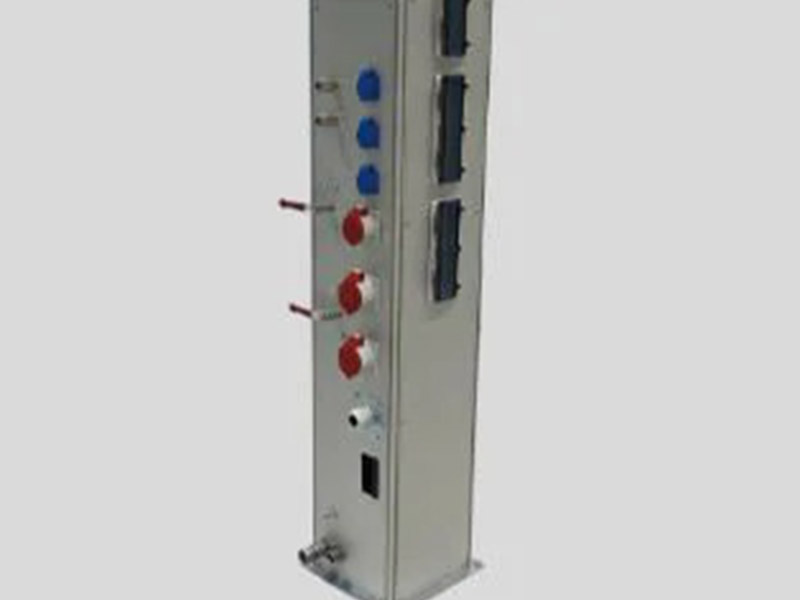 Floor mounting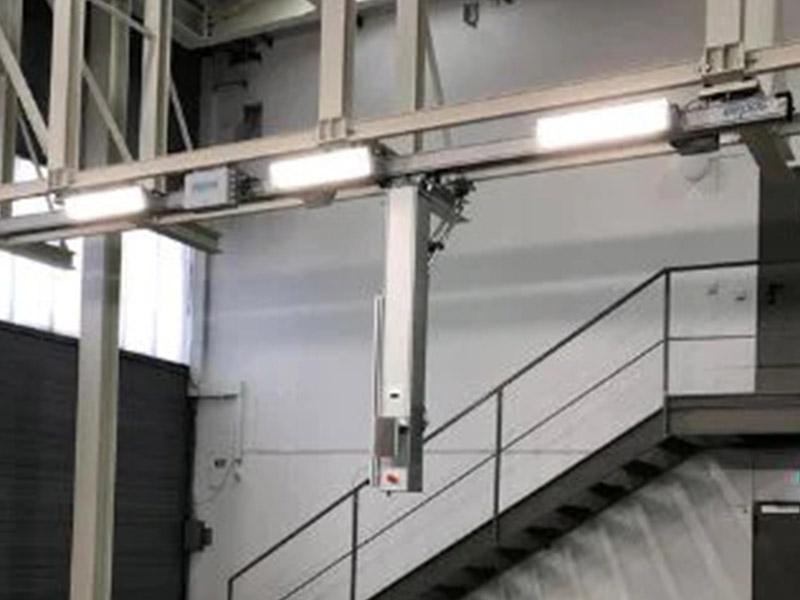 Crane attachment
Our columns are made of anodized aluminum (EN AW 6063 T66). This material offers great added value compared to stainless steel due to
high stability with low material thickness

high corrosion protection

Temperature insensitivity
easy cleaning of the surface

Environmentally friendly (can be fully recycled with low energy)
As standard, the energy column is supplied with protection class IP 20. However, if required and for certain media, we also offer protection class IP54.
"LIGHT YET ROBUST, DURABLE, RELIABLE - OUR WORKERS HAVE BECOME REAL FANS OF EEPOS ALUMINUM CRANES!"

Dieter Wettengl, Meister mechanische Instandhaltung, IVECO Magirus Brandschutzzentrum Ulm
Example of a media column
When equipping our service pole, you can choose freely between 15 module inserts and 3 cover plates. Here you can see a configuration option on a sample service pole.
THE MODULE INSERTS AT A GLANCE
Our standardized module inserts can be used on 2 or 4 sides depending on the type of energy column. In addition, we can also integrate all customer-specific inserts with our product.
Power (Schuko sockets 230/16, industrial sockets CEE 400/16, industrial sockets CEE 400/32, main switch, fuse window 4TE or 12 TE, Harting-plug and many more)

Compressed air (compressed air coupling, safety quick coupling, compressed air supply line, compressed air shut-off valve)

Signals (industrial connector 400/16, Ethernet 2-fold)

Empty module (available in 3 sizes, placeholder for later retrofitting)

Cooling water: supply, return, diameter and pressure according to customer requirements, shut-off valve

Gas: N2, O2, according to customer requirements
For all media, we use exactly the coupling you specify (manufacturer, size, condition, function) upon request.
Attachment parts and accessories of the energy columns
Due to external item grooves, own attachments can be easily realized. Here you will find a selection of accessories for our product:
Monitor and keyboard mounts

Tool trays, bottle holders and brackets
Perforated plates and worktops e.g. for workbenches

Universal cable management system

Task lighting and warning lights
eepos base columns can easily be equipped with a jib boom of up to 6 meters in length. The jib crane offers a load capacity of up to 500 kg. The assembly by means of high load anchors is fast, uncomplicated and clean.
In addition to the components and accessories, we also offer the complete service around the product. Starting with consulting, project planning and technical elaboration up to pre-wiring and assembly.
Of course, we are also happy to organize delivery and assembly on site and provide you with the appropriate documentation, including a CEE declaration of conformity.
Consulting, project planning and technical elaboration

Wiring and assembly of the media column before delivery

Shipping and installation on site

Documentation incl. CE declaration of conformity
In addition to the existing standard products, we can also work out and offer all individual special solutions in our technical department.
Energy columns for workplace equipment
In addition to the crane boom, the energy columns can also be used to design workplaces with smaller overhead conveyor systems. Our Nano series is particularly suitable for this purpose. The crane jib and the overhead track system are used for material handling, tool holding such as a balancer or they can be used as a cable and hose routing system.
With our eepos base energy & media columns, the interfaces for the respective media supply with power, data & co. are easily and directly accessible without having to open or remove cladding, panels, doors or similar beforehand. This system increases the user-friendliness of the energy & media columns.
PRICES AND CONDITIONS OF OUR INSTALLATION COLUMN
You can find our current prices updated daily in eeworld. Simply register, log in and use the price list. In addition, numerous configuration tools are available to you.
---
Alexander Krämer is at your disposal with words and deeds. Don't hesitate to contact him.